News:
Billing Information Update:
We have received notification that mailed Haywood EMC bills have experienced delays and slow delivery times during the month of December. The automated mailing service that prints and mails bills have stated that the holiday season and the influx of online purchases coupled with staffing shortages at USPS due to COVID are also slowing the delivery of mail. The USPS has a message on their website www.usps.gov regarding the unprecedented volume of mail being processed and the delays in delivery.
If you have not received your bill you can retrieve a copy and pay online by clicking "Pay Online" on our website at https://www.haywoodemc.com/ or by logging into the SmartHub app. Members can contact Haywood EMC's pay by phone system by calling 888-999-0559 to inquire about current balance and to pay by phone.
Members who have not received their bill and who experience difficulty in accessing their balance online or by phone are encouraged to contact our office for assistance. We appreciate your patience during this time.


An update regarding disconnections: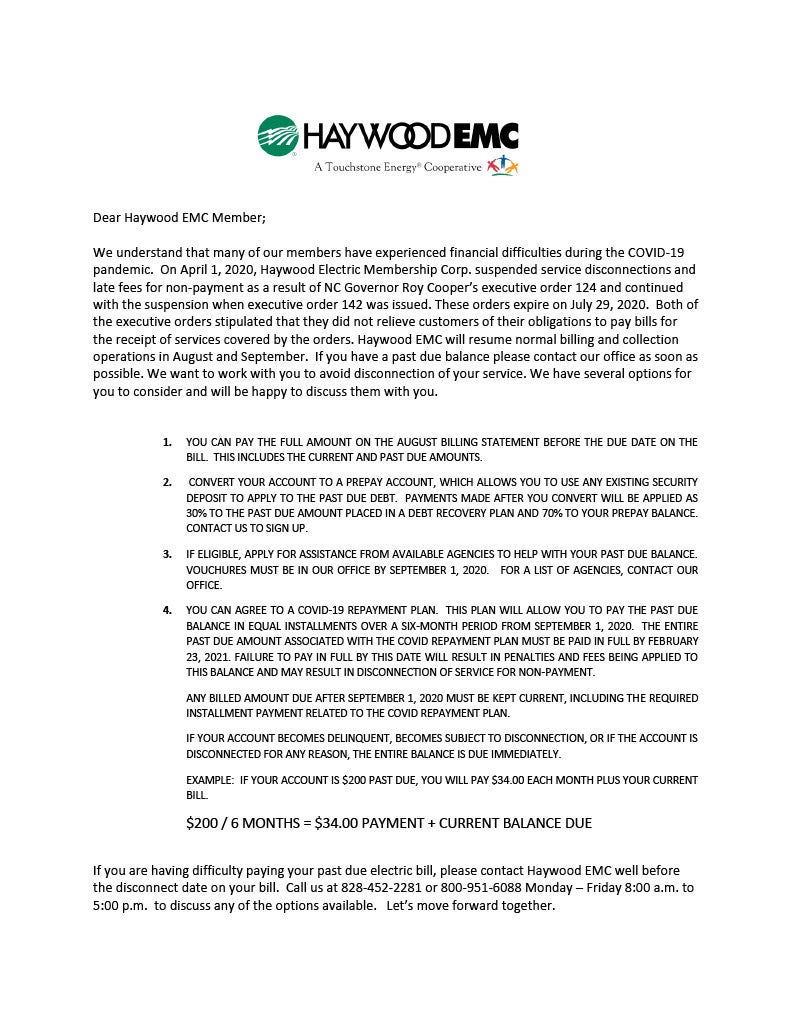 Statement of Social Justice: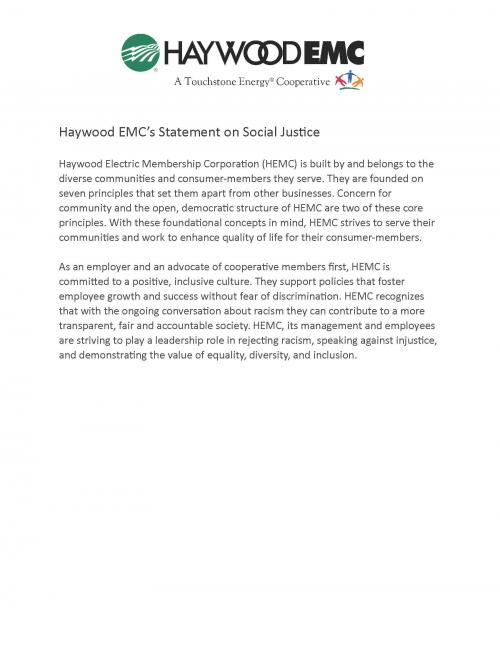 Haywood EMC's 2020 Member Appreciation Days:
Due to the COVID-19 Pandemic, This year's Member Appreciation Days have been canceled. We plan on hosting our 2021 Member Appreciation Days in May, just as we have in years past. We will announce their dates in the future!
Past Events:
Haywood EMC's 2020 Annual Business Meeting:
Haywood EMC held the annual business meeting on Thursday, August 6th, 2020. Due to COVID-19, we had to change things up this year. This year, the meeting was held under our loading dock at the Waynesville office. During the meeting, Haywood EMC confirmed the reelection of the Board Members serving District 5 and District 6. This year's election was uncontested. 


HEMC's 7th Annual Member Appreciation Day:
Haywood EMC would like to thank all of our members who came out to see us during our 7th annual member appreciation days!
This year's event in Lake Toxaway was our largest ever. We cannot wait to see everyone at next year's event!